April showers bring May flowers
May 8, 2023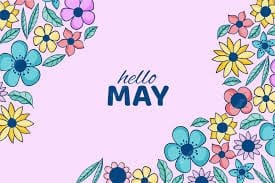 We've all heard the saying, "April showers bring May flowers." Yes, we are all ready for beautiful May flowers, but think of that saying as a metaphor for personal growth. We've all had struggles of one kind or another in our lives, that may be categorized as an "April shower." Many have had serious obstacles to overcome that may be categorized as a "hurricane." And more than a few have faced what might be called an EF4 tornado that all but wipes them out.
You've probably also heard saying, "Whatever doesn't kill me makes me stronger." There is much truth to consider in both of those sayings. Although none of us would relive the trials in our lives, we can probably all acknowledge that we are the product of all that we have experienced and overcome.
Studying about the lives of famous people who have overcome huge obstacles to reach great success can be inspiring. For example, Abraham Lincoln overcame chronic depression to become one of our greatest presidents, Winston Churchill overcame learning challenges to rise as a respected leader of the UK, and what Oprah Winfrey learned from her childhood of poverty and abuse helped her to become a media mogul.
They all have one thing in common…they did not give up. They did not quit. No matter what we face in this life, success may be just around the next corner. The hard times in our lives can build our character, deepen our compassion for others, and strengthen our resolve to succeed. It's always our choice how we handle the "rain" that comes our way.
2023 appears to be a fast moving year for everyone. The first quarter is now in the books and we continue to press forward. Feeling the pressure to achieve and meet corporate and personal objectives has caused many of us to look for ways to be more productive and organized. Here are a few tips from a recent article that you may find helpful:
Focus on what's important – Remind yourself of your long-term goals and revise them when necessary. Set daily priorities to meet your goals. Keep photos of your family or inspirational pictures nearby.
Make lists – Make daily, weekly and monthly to-do lists of important tasks. Review your daily priorities at the beginning of each day.
Manage your time well – Schedule quiet time at work to accomplish tasks that need extra concentration. Do your most challenging work when your energy is at its highest; save less demanding work for other times. If you tend to procrastinate, focus on the sense of accomplishment you'll feel when the job is done. Use commute time to plan your day's activities.
Use calendars and planners – Check your work calendar daily to review your activities and avoid conflicts. Write down all commitments in pencil rather than trusting your memory. Use planning and scheduling forms and software to help you map out long-term projects.
Delegate tasks – Assign tasks to others when the task is not on your level of expertise. Provide adequate training and feedback on assigned projects.
6. Manage your mail and phone calls – Sort incoming mail into categories by priority or action. Use voice mail to screen phone calls.
Reduce clutter – Clear your workspace. Keep only the most critical items and information you need daily on the top of your desk. Archive resource materials you rarely use. Toss out duplicate information and materials that will soon be outdated. Leave blank space on bookshelves for growth.
Stay organized – Organize files by priority and keep the most important ones within arm's reach. Spend 15 minutes at the end of each day clearing your desk and 15 minutes the next morning planning for your day's activities. Review items one through seven on this list.