Our Team
Meet your local insurance experts.
Outstanding service starts with an outstanding team. Meet the professionals behind Crow Hill Insurance.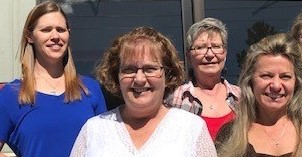 ---
Gail Crawford: Cattle Rancher, Gardener and Insurance Agent
Gail@crowhillins.com
Gail is a Colorado Native and started in the industry in 1994 with Crow Hill Insurance and became the President of the agency in 2008. She is a member of the Platte Canyon Chamber of Commerce and The Professional Independent Insurance Agents of Colorado. She is currently service on the Platte Canyon School District – Deer Creek Elementary Accountability Committee. She served on the Platte Canyon Board of Education for six years and has volunteered with The Grants for Knowledge non-profit foundation supporting the school district for eight years. She also volunteered for many years as a livestock leader for the Park County 4H program. She loves the outdoors, gardening and participating in the family cattle business. She loves to hang-out on the ranch with her family and friends – especially her grandkids!
---
Kathy Brion: Animal Lover, Outdoor Enthusiast and Insurance Agent
Kathy@crowhillins.com
Kathy has been a licensed agent since 2008 and joined Crow Hill Insurance in 2010.  She appreciates all of the many challenges and learning opportunities that the insurance industry offers.  When she is not working, she enjoys spending time outdoors with her husband Bob, caring for their pets, visiting with family and friends, and hanging out at home.
---
Annette Tekler: Outdoor Enthusiast, Mom, and Insurance Agent
Annette@crowhillins.com
Annette is a Colorado native from the Pine Junction area.  She loves spending as much time with her young son, family and 2 dogs as possible, whether that be camping, hiking, traveling or just enjoying the outdoors.  She comes to us with computer and veterinary technician experience. As a licensed insurance agent, she is here to help you with your insurance needs.
---
Cindy Schmitz: Square Dancer, Outdoor Enthusiast, CSR and Meemaw
Cindy@crowshillins.com
Cindy is a native Texan living in a Colorado world. She first came to Colorado on a college ski trip and fell in love with the snow and mountains. That was way back when you could actually drive on I-70 and Hwy 285 on the weekends to get to the mountain adventures. She enjoys camping and hiking with her family and watching the wildlife around her Bailey home. She has two fantastic grandsons. She is excited to be a part of the Crow Hill Insurance team and looks forward to being a prolific community member.
---
Need an insurance quote? Get in touch!
Access quotes from Colorado's most trusted insurance carriers. It's comparison shopping at the click of a mouse.